Canyon Lake Pool Service and Swimming Pool Cleaning Experts
---
Is Your Canyon Lake Pool Service Near Me?
Corts Pool Service has been providing pool service Canyon Lake has counted on since 2002.  In fact, the owner of Corts Pools, Cort Williams lived in Canyon Lake for many years, so we know what the community expects and how best to operate within the gates so not to put your relationship with the POA at risk. We are the leader in residential swimming pool service and saltwater pool maintenance in Canyon Lake.
Our pool cleaning service covers every problem any pool owner in Canyon Lake could potentially face. Whether you live off Canyon Lake Dr. S, Canyon Lake Dr. N, Vacation Dr or Longhorn we provide the best Canyon Lake pool maintenance in the city!
Let our pool cleaners make your life easier this year by giving us a call at (951) 775-2678 like many of your friends and neighbors!
Corts Pool Service covers the entire city of Canyon Lake from the North gate to the South gate to Goetz Road. You just may run into us having dinner at Pepe's, shopping in the Canyon Lake Towne Center or hitting some balls at the Canyon Lake Country Club on our days off. We are your swimming pool service in Canyon Lake. No more cloudy pool water or messing with pool chemicals – let our professional pool service team clean your pool and spa today.
Hiring an expertly trained weekly pool service company to maintain your Canyon Lake pool helps protect a significant investment in your home! Making sure the water chemistry stays balanced and keeping the pool equipment working accurately allows you to enjoy the fantastic weather here in the Canyon Lake area while relaxing in your pool or spa worry free year round. We are Canyon Lake's trusted pool service company and save you time so that you can enjoy your pool more. Rather than educating yourself, buying chemicals and making time for maintenance hire a pro so you can spend more time lounging and less time skimming your pool.
On Every Pool Service Our Expertly Trained Staff Keeps Your Pool Clean and Safe Performing The Following Services:
---
Check and Balance Water including Chlorine, Cyanuric Acid (Conditioner), Alkalinity, Hardness of Water, pH (Acid & Soda Ash)
Skim Surface & Net Leaves
Vacuum Bottom
Brush Steps & Walls
Empty Pump & Skimmer Baskets
Check & Test Equipment And Note Any Issues
Make sure your gate is secured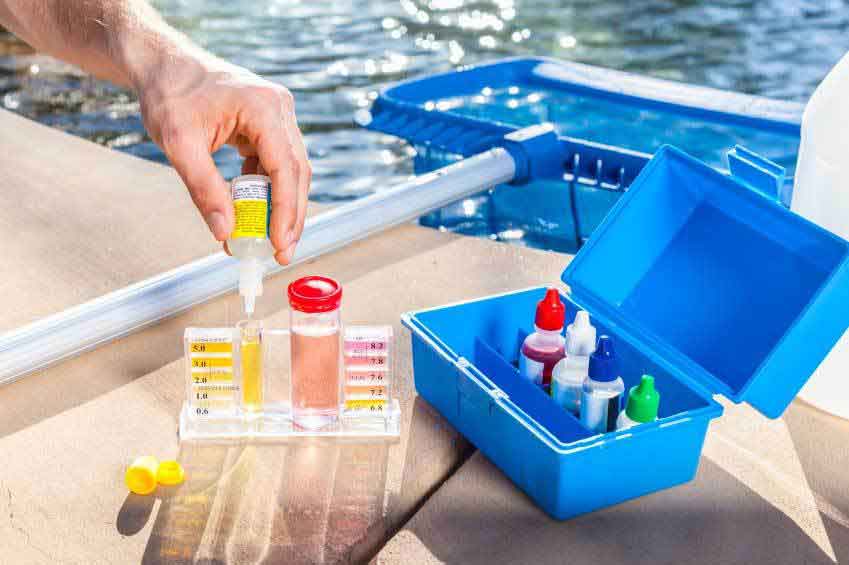 What Makes Our Weekly Pool Service in Canyon Lake Unique?
---
Licensed and Insured
Water Chemistry Certified
Education
Ongoing Training
Affordable
Reliable – We show up on time and deliver as promised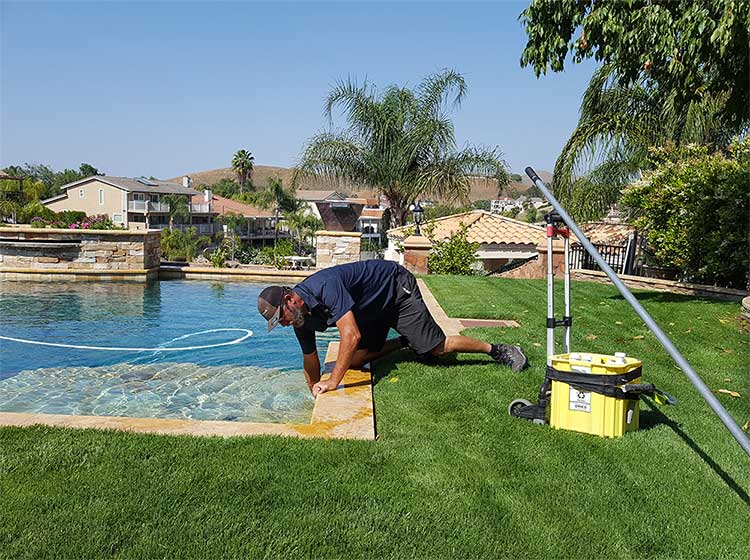 ---
Trust Your Families Pool Care To Our Experienced Team
---
Just looking at a pool it can appear clean, but it can have bacteria, algae and other undesired things living in your pool that can be harmful to not only your pool but for your family. It is important to make sure that the pool service company caring for your pool has been properly trained in proper pool maintenance as our technicians have at Corts Pool Service. We've been cleaning pools for over 15 years, and you can trust us to make sure your pool is healthy and safe to swim in.
What Our Canyon Lake Customers Are Saying About Our Pool Service!
Wow! No one wanted to mess with my hot tub, which wasn't working…Cort came out, diagnosed the problem and ordered the parts. In about a week it was all fixed and ready for use. All for WAY less money than I imagined. Highly recommended!
Mike S. Temecula, CA
I bought a foreclosed home in Temecula with a green pool… I am not exaggerating, I called about 20 different pool service places, just scrolling through the google map pages, and Cort was the only one who answered. Not only that, he came RIGHT out to my house and the work on the pool was finished within a few hours. He was professional, informative and just all around awesome. I would recommend him to absolutely anyone with a pool.
Martin W. Temecula, CA
I recently purchased a foreclosed home here in Temecula that had an old green pool. After the purchase a neighbor referred me to Corts Pool Service. Cort, the owner not only cleaned my pool and made it look perfect, but he took the time to explain how to use the system and stayed until ALL my question were answered.
Steve R. Temecula, CA